Today I am sharing a behind the scenes headshot photography session with a contact sheet of all of the RAW images to see the progression of the shoot.
I'll be showing you how small shifts in posture and getting the right angles really create a big impact. In this post I'll also share with you the image I selected as my new headshot and what I did in post processing to truly transform it.
Subject = me
Photographer = me….
Confused yet?
Read on!
It all starts with wanting to update my headshot. I had been using the same one on my LinkedIn for many years and knew it was time for a refresh.
I needed a photo that said, "I'm a photographer."
I only had about 20 minutes to get these done, so I quickly set up a spot in front of a window in my studio, and draped fabric behind me as a backdrop. I find that the most flattering light from a window is when you directly face it.
I made certain that my makeup was on point, hair was done and so were my nails.
I wanted a chic color palette, so I kept with silver, ivory, black and red. Since I recently had my nails polished, I made sure that my lipstick did not clash.
People often ask what to wear once they book their photo shoot and I always say pick a color you feel confident in and a style that flatters your figure. I love this ivory blouse and it is one of the pieces in my work capsule wardrobe. I rotate between 3 pairs of pants, a black jumpsuit and a handful of tops. My work wardrobe color palette is typically black, white, blue and red (with some exceptions)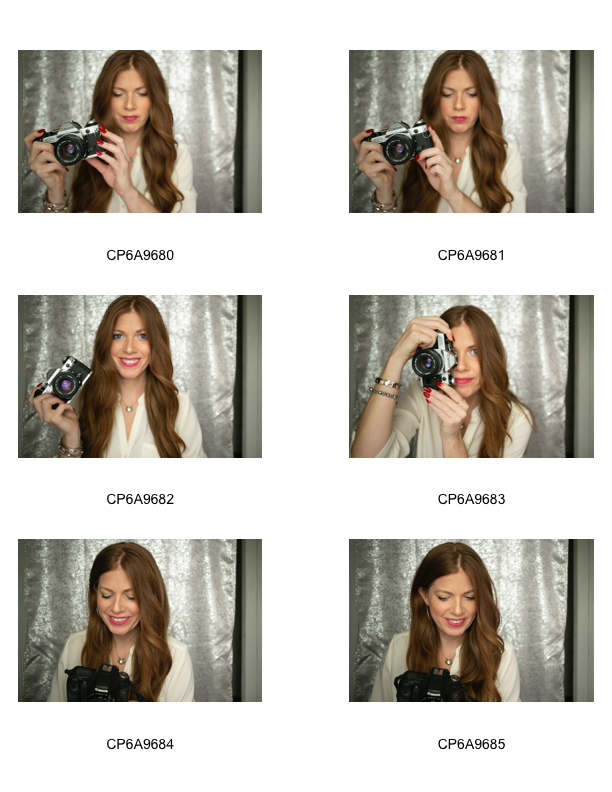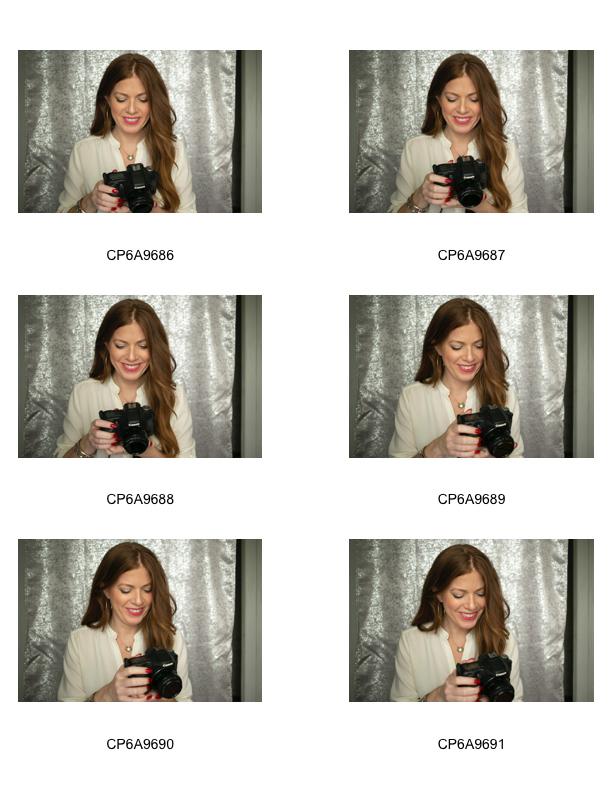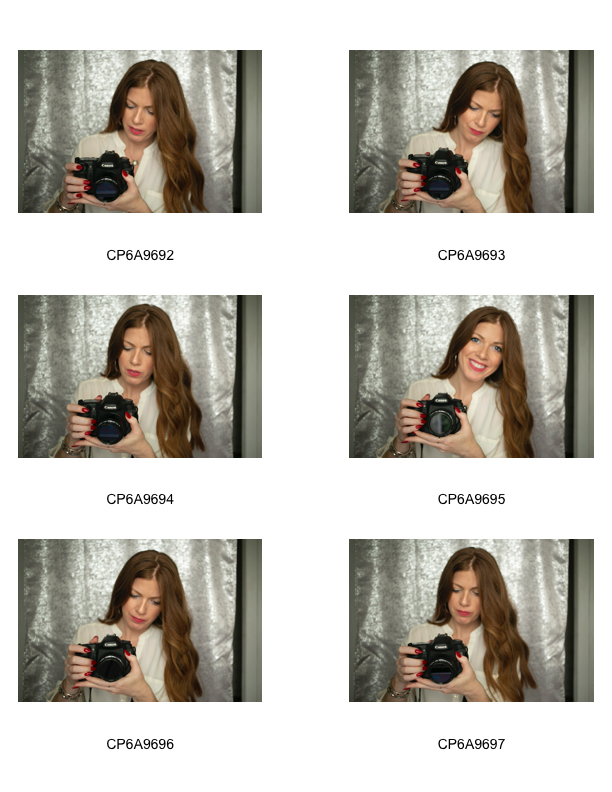 In the photo below, I am starting to get the composition and pose down, but still haven't fine tuned it yet.
I realize I like the way I am holding the camera, but need to tweak my pose a little and also move further back to get more of me in the frame of the photo.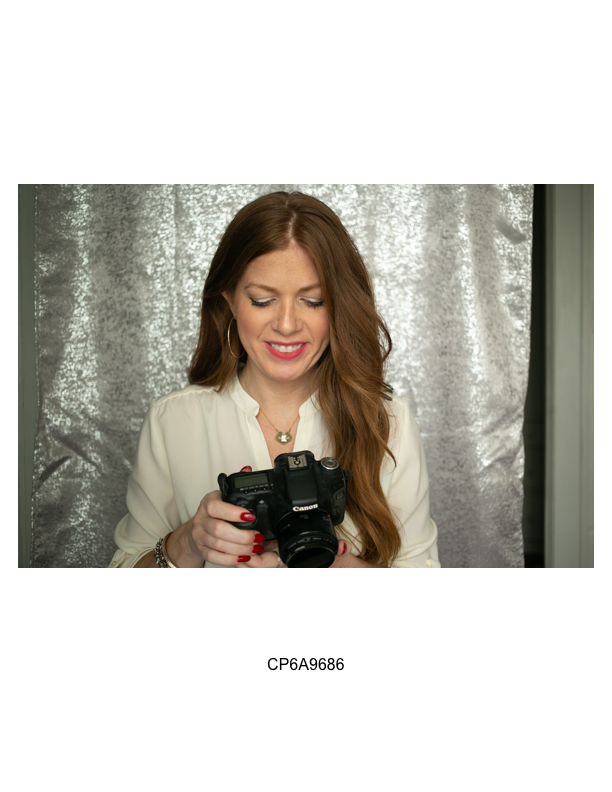 So now I am a little further back and just have to position my face and body at the right angles.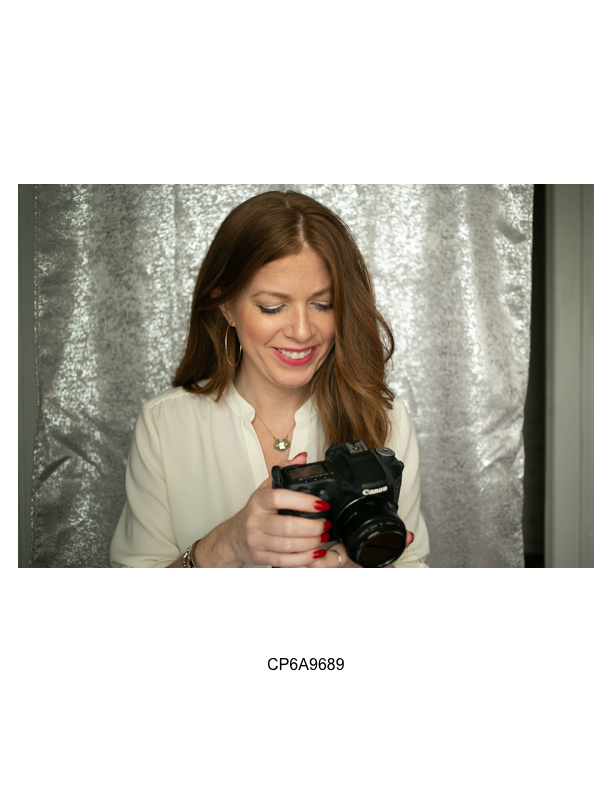 Now that I know where I need to be, I just have to work on the pose itself.
This is where some self awareness comes in handy.
I realize that when I smile or laugh, I have the tendency towards a double chin. The best way to remedy that is to push your face forward and down to elongate the neck.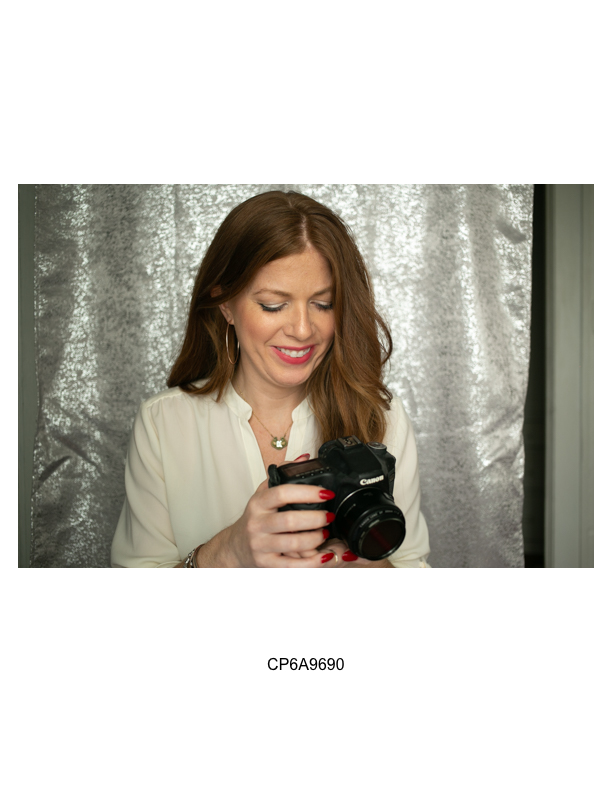 I still have a double chin here….but….NOT.FOR.LONG!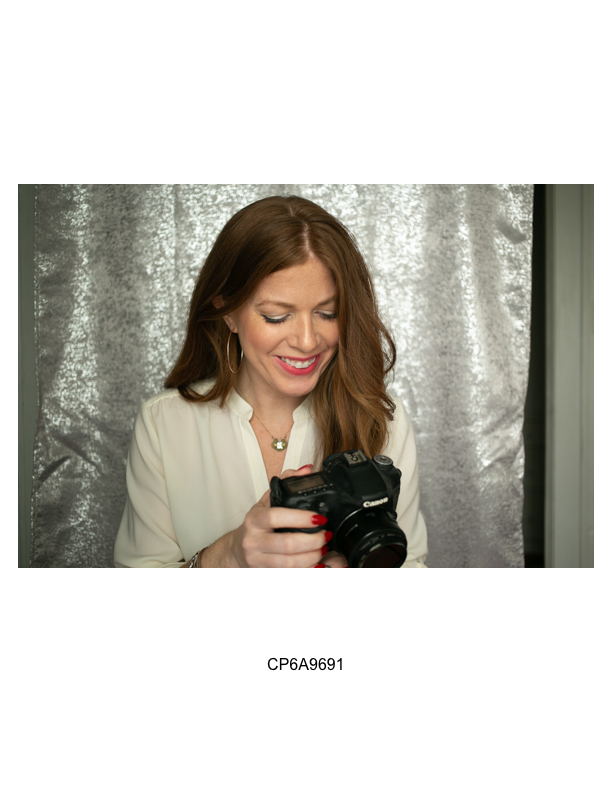 YES!! This is the pose. Face is forward and down just a bit and it is a subtle shift that makes a BIG impact!
Now that I am ready to edit….I crop the image and edit it for color, and contrast in Lightroom and brighten the backdrop on the left (see original image to compare)
We are close to a finished edited image.
However, there are a few elements to take care of. I export the image to Photoshop to take care of those.
There you have it. A quick photo session and the result is a perfectly polished clean, crisp and modern headshot.
Interested in booking your own session? Head on over here for more information. Questions or comments? Leave them below. Thanks for reading.
XO